https://www.youtube.com/watch?v=maZU-RYeWKw
Balinese Retreat
Discover the language of love
Exclusively for couples

Escape with your lover for a secluded romantic getaway in your own luxury private Balinese waterfall villa, set among bamboo groves, lakes and tropical gardens 45 mins from Melbourne. This exclusive adults only villa for one couple, provides absolute privacy on five acres of resort gardens. Soak in your private hot tub overlooking the lake, enjoy dining in the resort restaurant, and indulge in exclusive spa treatments in the opulent 'Spa de Marrakech'.
Luxury
Accommodation
Wrap yourself in the stunning view of the waterfall from your King size Opium Bed. Enjoy seductive nights and days of pampering in absolute seclusion.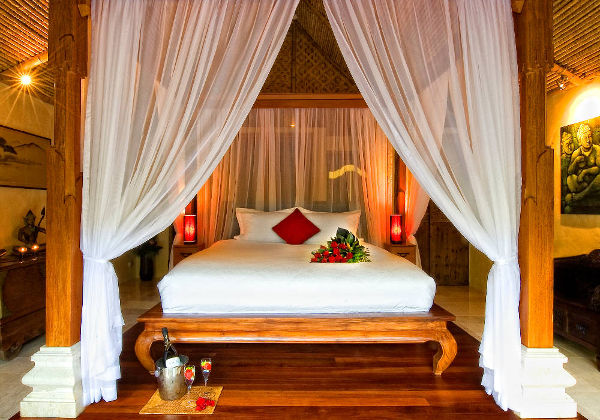 World Class Spa
Treat your mind, body and soul to a variety of treatments and options with a package that includes pampering for both of you!
Hot Mineral Springs Bathing
Balinese Spa Retreat provides one of the most relaxing private hot mineral spring experiences in Victoria, creating the perfect getaway for a honeymoon, hideaway, romantic proposal or special occasion.
Fine Dining
Specialising in Modern Japanese cuisine, our chef's six course dinner is inspired by fresh, seasonal, local produce and delivers a culinary taste sensation.
Popular Packages
This secluded romantic getaway can be enjoyed with a range of one night, two night and three night accommodation packages. Packages are designed to provide the ultimate in romance for lovers and newlyweds, including Tranquility, Arabian Romance, Rejuvenation, Escape, Anniversary Celebration, and Seduction.

"Something magical happened to my taste buds, it was one of the most beautiful things that I've ever experienced. ar far away, behind the word mountains, far from the countries Vokalia and Consonantia, there live the blind texts. Separated they live."

Chase Carlson

Salient FoodMag
"The subline of her own road, the Line Lane. Pityful a rethoric question ran over her cheek, then The Big Oxmox advised her not to do so, because there were thousands of bad Commas."

Carley Kohen

WeDoFood
"A small river named Duden flows by their place and supplies it with the necessary regelialia. It is a paradisematic country, in which roasted parts of sentences fly into your mouth. Even the all-powerful Pointing has no control."

Corey Smith

FoodReviewz