When you stay at Balinese Retreat, enjoy bathing in outdoor hot mineral springs under the stars. Our outdoor hot springs are completely private and designed exclusively for couples to enjoy with or without clothes. The water is heated to an ideal temperature for bathing, providing relaxation, romance and deep healing benefits for the body.
Completely Private Outdoor Bathing
Outdoor bathing at Balinese Retreat is completely private. Couples can bathe with or without clothes, in a natural outdoor pool. Sink into the steamy mineral waters with your partner, surrounded by mountains and rocks, in your own garden paradise.
Hot Mineral Springs Water
The mineral water at Balinese Retreat is drawn from deep within the surrounding mountains in the Dandenong Ranges aquifier. The water is heated to an ideal temperature for outdoor bathing. Not only are the mineral waters deeply relaxing, but they also provide many healing benefits for the body.
Choose accommodation packages at Balinese Retreat, combining outdoor bathing and a choice of massage treatments. Experience the soothing mineral rich waters of outdoor hot springs bathing, followed by a deeply relaxing aromatherapy or hot stone massage.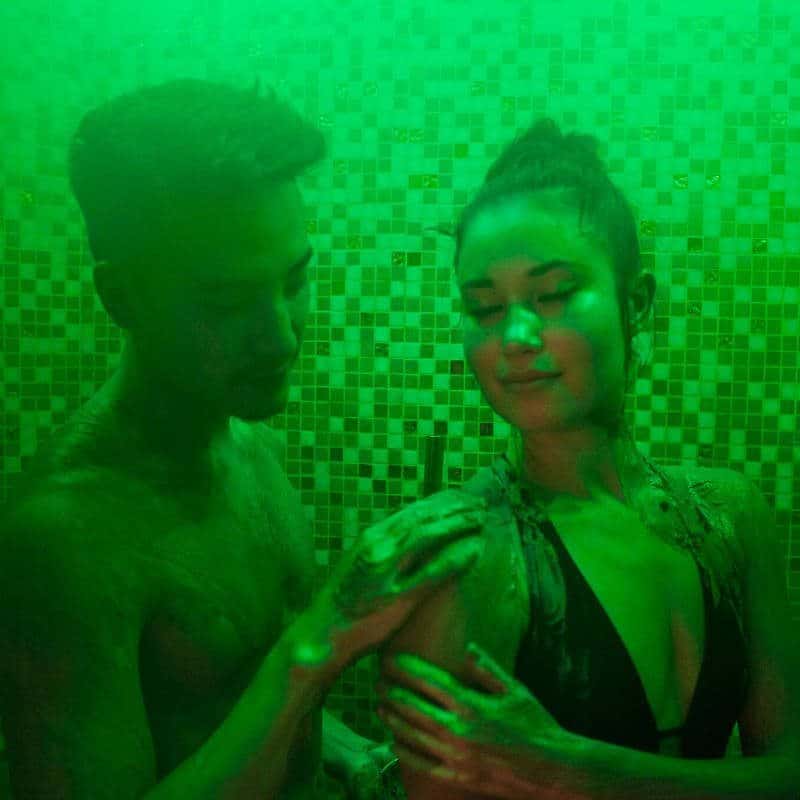 Balinese Retreat also offers romantic couple's accommodation packages with indoor bathing in a traditional Roman bathhouse - complete with adjacent steam temple and rain shower. Couples bathe in complete privacy, beneath a domed ceiling, surrounded by traditional mosaics and marble.
"This awesome place has exceeded my expectations! From the entrance of the property to the smallest detail-superb!! Thank you for making us feel very special people. The massage was excellent, the food ahh! Thanks for making our 15th Wedding Anniversary worth remembering"

Janette and Nagmleni

May 2013
"This incredible place you have here is absolutely breathtaking! Wow, what a unique place in the eastern suburbs. The food and all service were flawless! We will be back and be recommending your stunning Balinese Resort to everyone!"

Luisa and Heath

July 2013
"What a wonderful hidden oasis, from the minute you drive in it is just WOW! Have enjoyed every minute of our stay, everything is just 1st class, only regret is that we didn't book 2 nights!"

Georgie and Darren

23rd Feb 2013
Popular Bathing Packages
Bathing is available indoors in the sumptuous Roman Bathhouse or outdoors in a completely private landscaped hot mineral pool. Hot mineral water bathing in a luxurious timber hot tub under the stars is available with resort accommodation packages.

Indoor Bathing (50 Mins)
Completely private indoor bathing in the Roman Bathhouse
Indoor Bathing + Massage
Indoor bathing in the Roman Bathhouse for 50 Mins
Massage for 50 Mins
$380 per person
Outdoor Bathing (50 Mins)
Completely private outdoor bathing
Hot mineral spring water
$130 per person
Outdoor Bathing + Massage
Outdoor Bathing (50 mins)
Massage (50 mins)
$299 per person