Seduction is about relaxation. Balinese Retreat provides you with an experience like no other. When you visit Balinese Retreat you and your partner can enjoy exotic spa therapies and hot mineral bathing to relax body and mind. All treatments are in the opulent Spa de Marrakech day spa, featuring an authentic Roman Bathhouse, complete with Arabian Steam Temple, colour therapy and spa rituals from the Middle East.
The aromatherapy massage and wellbeing treatments at Balinese Retreat, Victoria will make every second of your Victorian weekend getaway a memorable moment. We have a variety of romantic massage packages available to suit every need. All massage treatments take place in one of our stunning treatment rooms in the decadent Spa De Marrakech Day Spa.
The perfect massage for those feeling the effects of stress or a hectic life style. Traditional Aromatherapy massage fused with Ayurvedic scalp and facial massage using our award winning Aromatherapy oils.
This specialised massage treatment is recommended for tense aching muscles and joint discomfort in the neck, shoulders, lower back, arms and legs. Traditional aromatherapy pressure points focus on the spine to release physical and emotional tension. Particularly suited to men.
Hot stone therapy goes beyond the physical allowing you to enter deeper states of relaxation to promote health and well-being. Hot basalt stones are placed on key energy points while signature massage techniques combined with luxuriously warmed oil and heated stones deeply relax and rebalance the mind and body.
Aromatherapy Facial
Dry skin ages faster than any other type. Enriched with nutrients, dates have been known to hydrate even the driest of complexions for thousands of years and are grown throughout the Middle East. Enjoy a creamy mask, infused with date extract and hyaluronic acid and relax as this treatment does its work, reducing the appearance of wrinkles, fine lines, crow's feet and puffiness.
Balinese Retreat offers a range of decadent Signature Rituals to relax mind and body and connect you to your partner. Each of our ritual treatments are provided in the ultra private and luxurious Spa De Marrakech - onsite at Balinese Retreat.
Enjoy this journey of ancient Arabian opulence. We begin by immersing the body with the traditional black olive soap and steam to allow the eucalyptus aroma to clear your senses. A vigorous body exfoliation follows to reveal a healthy glow to the skin. To complete your Moroccan Hammam experience, a delicately scented Shea butter is applied to the body to seal in your skins newfound softness.
This spa retreat package will leave your body and soul glowing. Begin in the Roman bathhouse to steam and bathe the body. Follow with the Oriental Hammam beauty ritual (traditional Arabic body exfoliation) leaving you relaxed and your skin rejuvenated.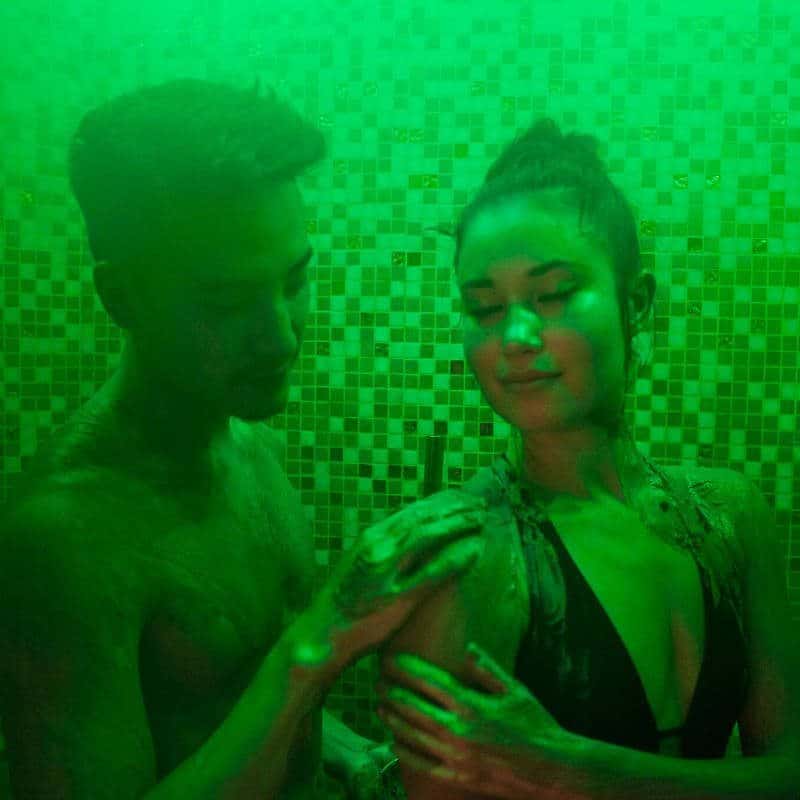 Derived from the theories of Indian Ayurvedic healers, colour therapy is based on the body's seven chakras. When these "energy centres" become unaligned, colour and light are used to restore the balance – whether physically, emotionally or spiritually. When colour therapy is combined with aromatherapy and steam the potential for maximum well being can be achieved.
Arabian Steam Temple
Begin with the oriental Hammam Ritual, choose your personal colour therapy journey then enter your private pre heated Steam Temple where you cover each others body with clay from the Moroccan Atlas mountains, detoxify in the steam, enjoy the infusion of herbal essences, after a period of 20 minutes a rain shower follows to wash away the clay…..follow with your choice of massage or facial.
110 mins: 

$390 Per Person
"This awesome place has exceeded my expectations! From the entrance of the property to the smallest detail-superb!! Thank you for making us feel very special people. The massage was excellent, the food ahh! Thanks for making our 15th Wedding Anniversary worth remembering"

Janette and Nagmleni

May 2013
"This incredible place you have here is absolutely breathtaking! Wow, what a unique place in the eastern suburbs. The food and all service were flawless! We will be back and be recommending your stunning Balinese Resort to everyone!"

Luisa and Heath

July 2013
"What a wonderful hidden oasis, from the minute you drive in it is just WOW! Have enjoyed every minute of our stay, everything is just 1st class, only regret is that we didn't book 2 nights!"

Georgie and Darren

23rd Feb 2013
Popular Packages with Spa Therapies
At Balinese Retreat there are a wide range of amazing packages from which to choose, which have a combination of spa treatments, bathing and accommodation. Here are some of our most popular: